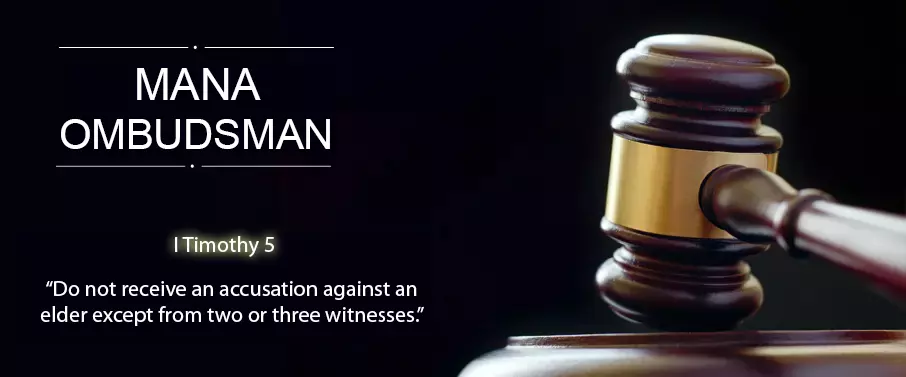 VALID-COMPLAINTS
Manna Ombudsman
Many people in the CONGREGATION see THINGS that should never happen and that lead people away from the Church that lead people to hell that need to BE JUDGED.
BUT they have Fear of God because it is Authorities above them so they NEVER say anything.
Only there is sin that needs to be Judged at the Cross otherwise we have an Achan bringing defeat.
Imagine in an Army, a soldier catches a Captain DOING SPYING.
How Ridiculous for the Soldier to keep quiet!
The Rule – the Soldier "asks the Captain for permission" to "PARTICIPATE" in it, even if the Captain does not give permission, the Rule is that the Soldier is obliged to do so. WHY? the security of an entire Nation is at stake!
A lot of BAD Leaders, Pastors, Bishops already play on this factor to do what is bad behind the backs of the top Leadership.
VALID COMPLAINTS
Why?
Because it will DEFEND the Ministry!
MANA'S PROVIDENCE
It is a public space to RECEIVE COMPLAINTS similar to the PROVIDER OF JUSTICE, complaints will be ANALYZED and no one can be CONSIDERED GUILTY until PROVEN OTHERWISE.
However the RULE is:
No charges shall be accepted against …
except with WITNESSES
and if …
I Timothy 5
19 Do not accept an accusation against an elder except with two or three witnesses.
20 To those who live in sin, rebuke them in the presence of all, so that others also may fear.
21 I adjure you before God, and … keep these things, doing nothing with partiality.
Leader caught RETALIATING will be SEVERELY PUNISHED, this goes for both cases:
1- in case the Accusation is False;
2- in case the Accusation is True.
Real Example:
It has happened to several Pastors and even a Married Bishop, he was "taking the bait" of a woman and several people saw and were very bothered, the Bsp even very conveniently stopped wearing a "ring".
Well, he was confronted -Response – love is in the heart and not in a ring.
EVIDENTLY this Bishop had a heart full of ADULTERY!
But he hid in the fact that he "Knew" that no one would report him.
Those who dared to speak to him were very subtly DISASTERED, and REPORTED to the Superior, as PROBLEM PEOPLE.
SOLUTION FOR THE FUTURE
Manna's PROVIDER of Justice
COMPLAINT Bulletin
name … the complaint …
IS RECORDED with no possibility of being DELETED and forgotten.
# The SIN will be JUDGED;
# The Manna will be SANCTIFIED, for God's use.
VALID COMPLAINTS
# Cases of SIN against HOLINESS
# Cases of SIN against AUTHORITY
CASES OF SIN against AUTHORITY
Note: they must ALWAYS be REPORTED
Such a sin is the SIN of ACAN;
It brings disgrace, defeat to the whole CONGREGATION.
Examples of SIN in the midst of Deacons:
– Opposes Kuriakos MUSIC, tries to introduce other Music outside the Vision, does not obey GF Lessons, speaks against Tithes, Mana-Sat Elevated Offering, OPPOSES paying for the Training Center….
MUST BE REPORTED URGENTLY!
Examples of SIN in the midst of PASTORS:
– The same one described above, sends "hints" against his Bishop, sends "hints" against the Apostle, is in the process of being CORE….
He MUST BE DENUNCIATED as a matter of urgency!
The tactic of Lucifer
was to speak to the Angels
They were friends, they called each other, they knew each other….
He mixed truths, with lies or INSUBMISSION
He watched the REACTION
Angel who accepted – was visited again
Angel who did NOT accept – was AWAY – Retaliated.

Proverbs 6
6 Things God ABHORS
But the 7th, God ABHORS ….
Examples of SIN in the midst of BISHOPS:
Same as described above,
sends "hints" against his Bishop
sends "hints" against the Apostle
is in the process of being CORE
MUST BE DENUNCED ASAP
REBELS – those who cause Rebellion – drag or try to drag people with them
with the excuse that their Leader is wrong, or flawed.
Example of Miriam – got Leprosy.
DESERTERS – those who ABANDON the KINGDOM of GOD – Pastors and even Bishops.
MURMURERS – those who, like Numbers 14, always think it is better outside.
the people of the world are more powerful than the Church the fashion of Society is more important than the Fashion of the Bible – It does not change
Social Security, Medicine, etc are more powerful than the Promises of God.
WOLFES – come into Churches to STEAL what is not theirs.
Are people who have strayed from a Church, speaking ill, and even in Rebellion, and then go there "DISFARCED" as Friends, giving the impression that "they are still of the Church"
But all the time they have "Second Intentions" – to turn people away to other Churches – or to a supposed Church he is going to open.